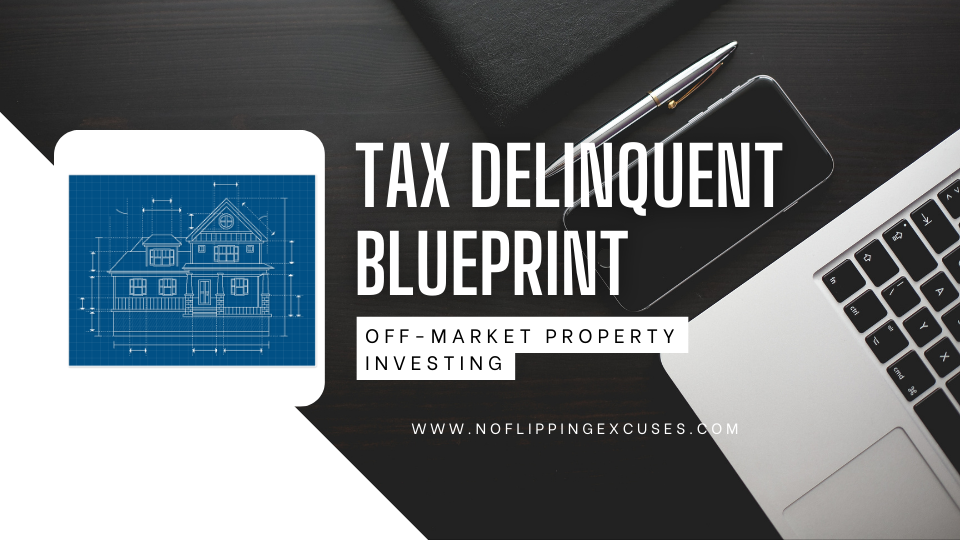 The Tax Delinquent Blueprint is an intensive and comprehensive real estate investing course designed to equip aspiring investors with the knowledge and strategies to generate exclusive inbound leads from motivated sellers in a must-sell position. This program, created by Jason Palliser and Jason Lucchesi, unveils a groundbreaking approach to finding lucrative off-market properties unknown to your competitors.
Through 11 core lessons, the Tax Delinquent Blueprint guides you through a step-by-step process that harnesses the power of tax delinquent properties to secure highly profitable deals. This training program is highly sought after for its ability to deliver unprecedented results when combined with massive action.
Key Course Highlights:
Unveiling Exclusive Inbound Leads: Learn the secrets of attracting motivated sellers who urgently need to sell their properties, ensuring consistent opportunities.
Must-Sell Property Insights: Gain a deep understanding of the motivations and circumstances that lead to tax delinquency, enabling you to identify the most promising leads and negotiate effectively.
Off-Market Opportunities: Discover a treasure trove of hidden gems by tapping into tax delinquent properties, bypassing the traditional real estate market, and leaving your competition in the dark.
Negotiation and Deal Structuring: Master the art of negotiation, utilizing proven strategies and techniques to secure favorable terms and maximize your profits.
Due Diligence and Property Analysis: Develop a keen eye for evaluating tax delinquent properties, conducting thorough due diligence, and assessing their true market value to make informed investment decisions.
Creative Financing Options: Explore innovative financing methods that can be employed to fund your tax delinquent property acquisitions, expanding your investment possibilities.
Closing Deals Successfully: Acquire the necessary skills to navigate the closing process seamlessly, ensuring smooth transactions and minimizing potential obstacles.
Risk Management and Legal Considerations: Understand the legal implications and potential risks associated with tax delinquent property investing, safeguarding your investments, and minimizing liabilities.
Building a Winning Team: Learn how to assemble a reliable team of professionals, including attorneys, agents, and contractors, to support your tax delinquent property ventures.
Scaling Your Business: Explore strategies for scaling and expanding your real estate investing business by leveraging the Tax Delinquent Blueprint system to its fullest potential.
Ongoing Support and Resources: Access a wealth of additional resources, tools, and support to enhance your learning experience and ensure continued success in your real estate investing journey.
Inside the Tax Delinquent Blueprint, you will find everything you need to close deals successfully in the highly lucrative tax delinquent property investing world. By following the comprehensive lessons and taking massive action, you'll gain a definite edge over your competition, leading to unheard-of results in your real estate investing endeavors.